Anna Papaeti
The Undoing of Music
Music has been historically linked with terror, humiliation, and punishment. Yet, positive perceptions dating back to the Enlightenment and antiquity have cultivated a critical blindness and resistance in acknowledging its damaging potential. Primarily seen as a benign, soothing, and enlightening art-form, music has become an ideal weapon of terror, often hard to register as such even for victims and perpetrators.
The Undoing of Music explores dark uses of music in cold-war Greece during the (post) civil-war period (1947–1957) and the military dictatorship (1967–1974), showing how regimes were in line with the latest repression methods practiced internationally. Through survivor testimonies and archival sources, it traces music's central role in so-called brainwashing – in its evolution – from a combination of torture and propaganda practices to a fully-fledged scientific programme developed in the 1960s internationally. Based on psychological research, this combination of coercive interrogation techniques leaves no visible marks on the body, conveniently evading human rights laws. Survivor testimonies – from Greece under the Colonels to Guantanamo during the so-called 'War on Terror' – attest to how music in this context can often scar those exposed to it much more than so-called 'physical' torture. Research too highlights how methods that focus on causing anxiety and fear have more long-lasting side effects with regard to Post Traumatic Stress Disorder. This historical recovery challenges mainstream notions of music's role in detention (even under the guise of voluntary participation), and wishes to open a debate about current uses of music, definitions of torture, and legislation.
This research was conducted by Anna Papaeti and funded by Marie Curie Actions of the European Commission (FP7, Horizon 2020), Onassis Foundation, Athens, and Research Centre for the Humanities, Athens. Anna Papaeti (PhD, King's College London) is a musicologist/researcher, writing about opera, trauma, and the intersections of music, power and violence, with particular focus on music in detention. From 2011 to 2014, she held a Marie Curie Fellowship at the University of Goettingen. There, she investigated how music was used as a means of manipulation and terror under the military dictatorship in Greece (1967–1974), documenting for the first time its integral role in torture. She is currently a Marie Skłodowska-Curie Fellow at Panteion University, Athens, researching music in detention during the (post) civil-war period in Greece (1947–1957). She has co-edited two special journal volumes on music, torture and detention, and published widely in scholarly journals and edited volumes. In 2016, she created the installation 'The Dark Side of the Tune' with Nektarios Pappas for the 'Hypnos Exhibition' (Onassis Cultural Centre, Athens; commission). She has presented her work in international conferences and exhibitions such as documenta 14 (2016, 2017 Athens). Her research has been supported by the European Commission (FP7, Horizon 2020), Onassis Foundation, Research Centre for the Humanities, and DAAD (UK). Nektarios Pappas sound design: Born in Athens, he studied sociology at Panteion University. Since 2014 he has been studying at Athens School of Fine Arts at Zafos Xagoraris' studio. In 2018, he was Erasmus student at In Situ programme of the Royal Academy of Arts, Antwerp. He also participated at the educational programme Radio Swamps, at the offical entry of Lithuania at the Venice Biennale of Architecture, as well as at School of Listening organized in the context of documenta 14 (2016, Kassel). He was also one of the main speakers at Synantiseis#2 of documenta 14. From 1996 to 2010, he established the record store Vinyl microstore (VM), the record label Pop Art Records and the independent music and film festival Yuria (2003–2013). In 2006, he created VM Radio, one of the first online radio stations in Greece. From 2014 to 2015 he was music curator of the festival Μoving Silence, organized by the Goethe Institute, Athens, and movingsilence.net. Since 2017, he has been working in sound-related educational programmes of the Onassis Cultural. His artistic practice mainly focuses on sound installations and interventions in pubic spaces.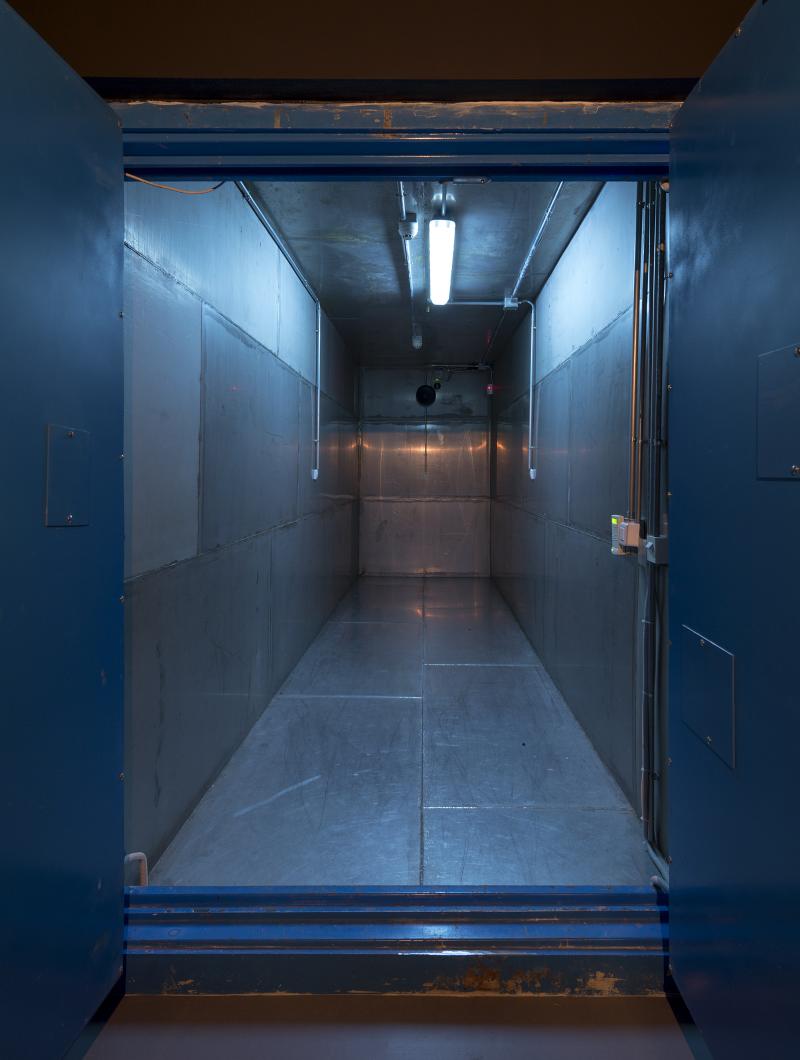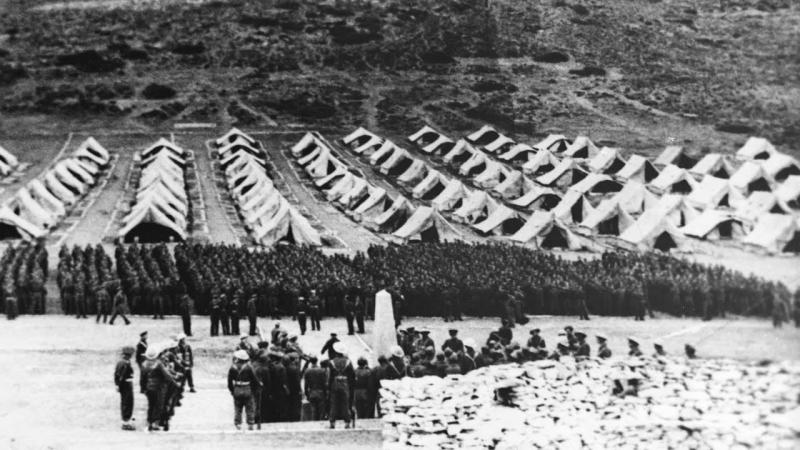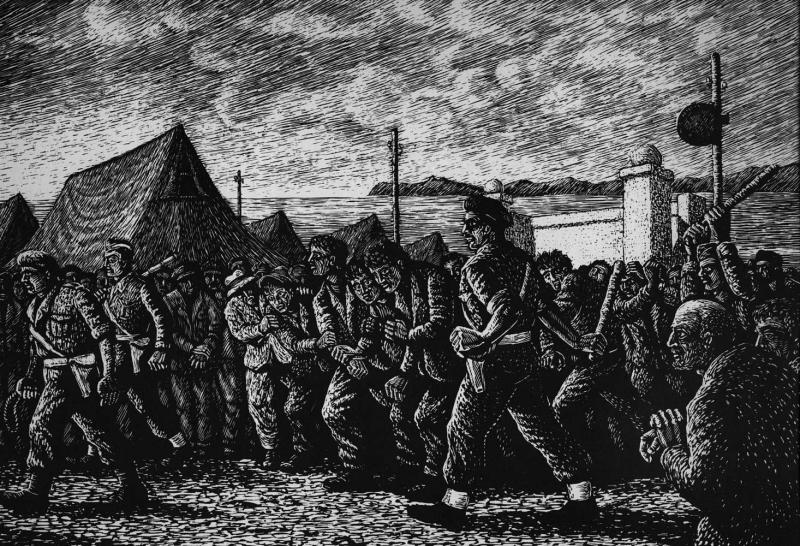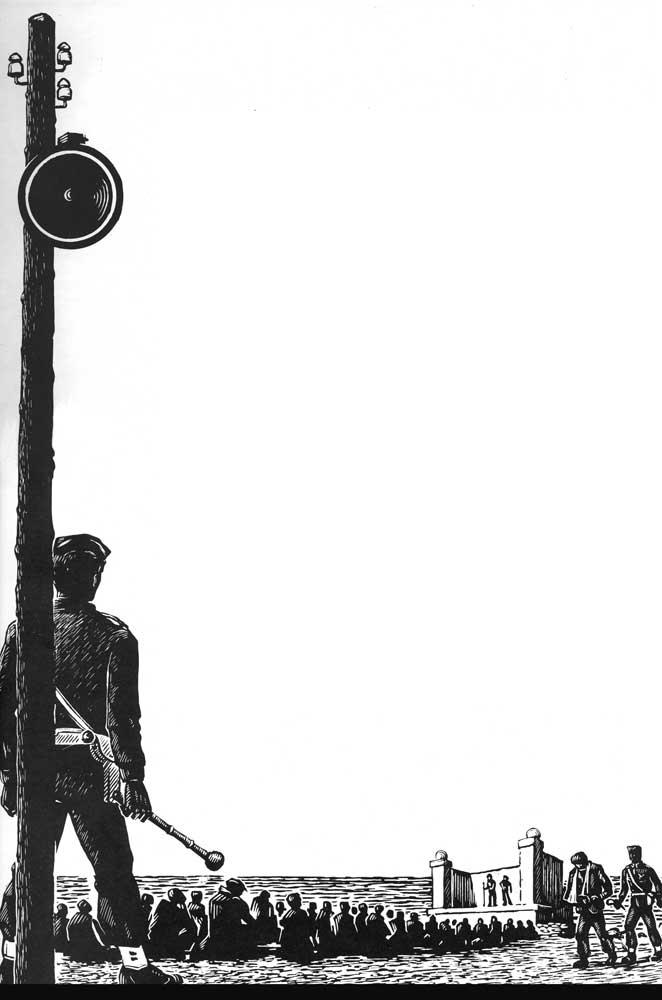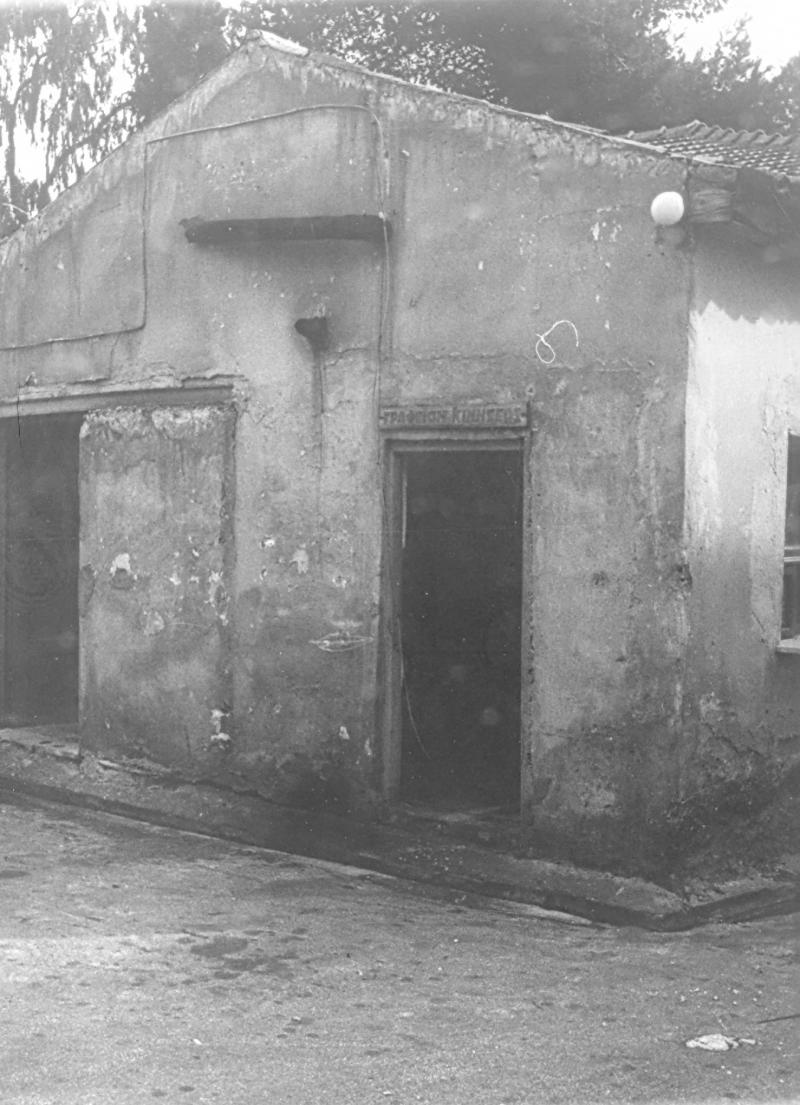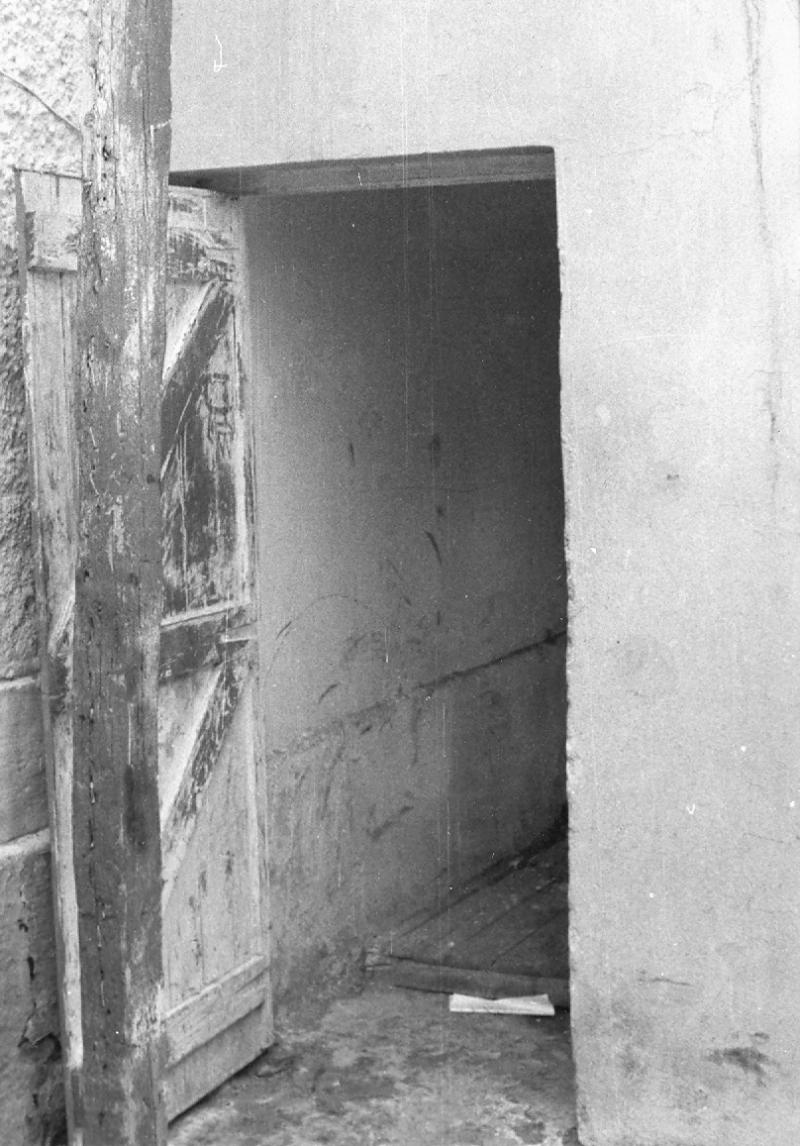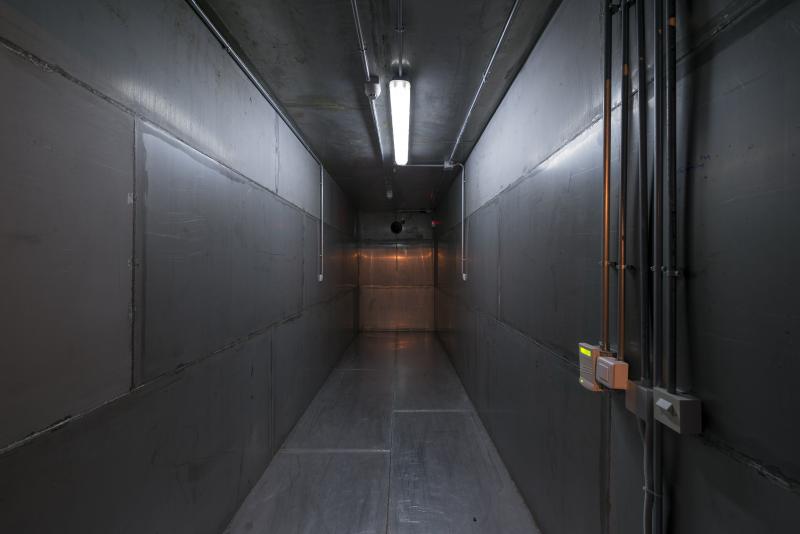 Share
Código copiado al portapapeles.
Date:

01/04/2019

Production:

Conceived, written, and produced by Anna Papaeti. Sound Design and production by Nektarios Pappas

Acknowledgements:

Many thanks to Nikos Arvanitis for his invaluable support, advice and generosity.

License:

Creative Commons by-nc-sa 4.0
Audio quotes
Music
'Im Gange ll'(Live at Kukuvista, 2018) by Pinna Bounce [electronics and trumpet]
Lyra by Alexis Alevizakis (2018)
Lute by Nektarios Pappas (2018)
Voice-over
Narrated by Anna Papaeti
Testimonies (in order of appearance): Philip Noel-Baker, Jonathan Woodcock, Luke Littlewood, Gene Ray, Glykeria Patramani, Nikos Arvanitis
Acoustic References
Music reference from Aris Retsos, Sophocles' Antigone (1995)
Nikos Margaris, History of Makronisos vol. 1 (Athens: Dorikos, 1966; in Greek), 12.
Extract from Giannis Kyriakatis (clarinet), 'Énas Aitós Kathótane' ('Ένας αητός καθότανε', folk song)
Letter written by imprisoned soldiers to the communist newspaper Rizospastis (25 June 1947).
Interview conducted by the author in 2012 with Dimitris, a former political prisoner held in Makronissos from 1948 to 1949. Pseudonames are used for the names of interviewees.
Extract from Theophrastos Sakellaridis, 'Athína Trelí Tsachpína' ('Αθήνα τρελλή τσαχπίνα', 1928) sang by Lina Ranta & Nikos Trimis
'Night Radio Prorammes', Skapanefs [Propaganda magazine], March 1949 (Makronissos, Greece), Contemporary Social History Archives (ASKI).
Extract from Sophia Vempo, 'To Proí Me Ksypnás Me Filiá' ('Το πρωί με ξυπνάς με φιλιά', 1940)
Ourania Staveri, The Exile's Triangle of Martyrdom: Chios, Trikeri, Makronisi (Athens: Paraskinio, 2006; in Greek), 94–95.
Interview I conducted by the author in 2012 with Costas, a former political prisoner of the military Junta,s detained at the Greek Military Police Headquarters in Athens in June 1973.
Interview conducted by the author in 2012 with Andreas, a former soldier of the Greek Military Police (ESA) during 1973–1974.
Interview conducted by the author in 2012 with Maria, a former political prisoner of the military Junta, imprisoned at the island of Giaros from 1967 to 1968.
Plato, Republic (Cambridge Texts in the History of Political Thought series) ed. G.R.F. Ferrari, trans. Tom Griffith (Cambridge: Cambridge UP, 2000), 117.