Language as a deposit of memory and history
An interview with Ngũgĩ wa Thiong'o
Ngũgĩ wa Thiong'o (Limuru, Kenya, 1938) is a writer and professor of English and Comparative Literature at the University of California, Irvine, as well as an activist who champions the rights of every community, no matter how small, using his mother tongue to broaden and preserve its cultural heritage. His concerns with activism are evident in a prolific output that encompasses novels, short stories, plays, memoirs and essays, largely written in Gikuyu, the language of the author's ethnic group Kĩkũyũ. Moreover, this group played a key role in the uprising, known as the Mau Mau Rebellion, that would bring Kenya independence from the British empire in 1962, an episode in history with a strong presence in his work.
Educated in an English-dominated environment, wa Thiong'o would desist from using the language in his work, favouring instead his mother tongue, with a defining moment arriving through his imprisonment in 1977 over the play Ngaahika Ndeenda (I Will Marry When I Want), co-written with Ngugi wa Mirii. Both authors were subsequently forced into exile — in the case of wa Thiong'o, first to the UK and then to the USA, countries from which he could still use Gikuyu to connect with his culture of origin after a forced separation.
Concurring with Moving the Centre, an encounter with Ngũgĩ wa Thiong'o held in the Museo, this podcast features an interview that touches on the core issues running through his work as a man of letters and as an activist: the importance of vernacular languages as forms of resistance to colonial and post-colonial domination; the need for optimism, never to be confused with conformity, in the struggle to obtain real social justice; and the urgency to re-consider the situated position of Africa on the global political-economic stage, exercising memory to recognise centuries of plunder and violence carried out on the continent by the West.
The podcast also includes an audio fragment of the traditional composition Ruimbo Rwakwa (My Song), performed in Gikuyu by Rebecca Nyanjega accompanied by a girls' group. The track was recorded in 1950 at Alliance High School in Nairobi, just two years before Thiong'o began his schooling there — an experience recorded on the pages of texts such as the autobiographical In the House of the Interpreter (2012). The song, in which women share their thoughts in the form of a riddle, is still sung today.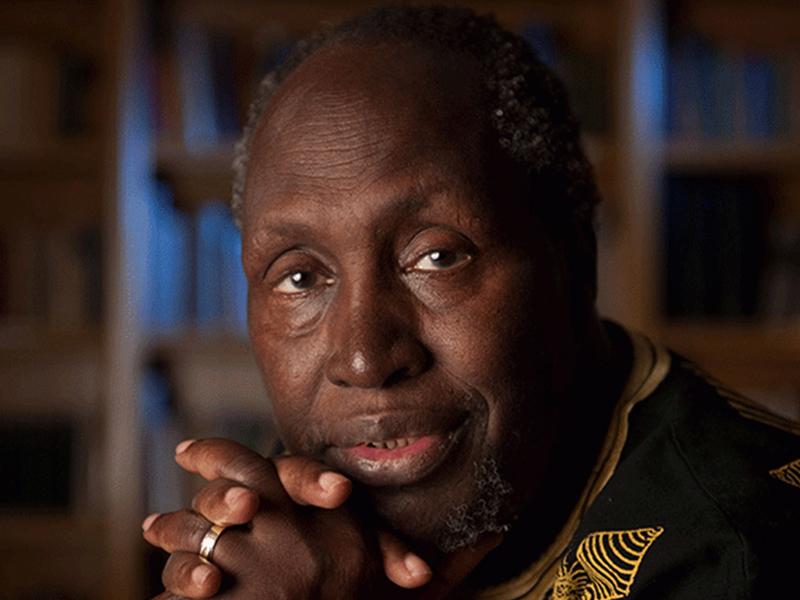 Share
Código copiado al portapapeles.
Date:

11/11/2019

Production:

Rubén Coll

Voice-over:

Madeline Robinson

Acknowledgements:

Salvador Ballesteros y Mariona Peraire