Keith Fullerton Withman
Tunnel Mountain, Part 1 (The Dream)
A three-part folio of Electro-Acoustic works composed, performed and recorded during an all-too-brief stay at The Banff Centre during March of 2016, the Tunnel Mountain pieces are an attempt at a long-form impressionistic suite inspired by the titular landmark, visible via the studio window & accessible via a short hike.
Part 1 (The Dream) is scored for three pianos, assorted concert percussion, and 1969 Serge and 1971 Delta Research Systems Analogue Modular Synthesizers, the latter two courtesy of the NMC (National Music Centre) in Calgary. The piece makes liberal use of cross-modulation matrices, in which the Serge and the Delta, in effect, "listening" to the piano improvisations, begin to gate and negate the more laminar materials in a pointillist way; «much in the same vein of Rauschenberg's erased De Kooning».
Dedicated to, and perhaps borrowing liberally from the timbral & tonal palettes of, Jordan De La Sierra, Giuseppe Morocchi and Charlemagne Palestine, and the methodologies of Helmut Lachenmann, Walter Marchetti and Dick Raaijmakers, Part 1 (The Dream) merges a mechanistic take on the sort of hand-played, layered Minimalism of the former with the conceptual, process-music constructs of the latter, forceing each to decide which gains high ground.
«While defeating the sizable jetlag one encounters while travelling from Australia to Canada, I had a recurring dream wherein, at the apex of a majestic, snow-capped mountain, I discovered a single light switch embedded into the bark of the tallest tree; I was aware that this was the electrical master-switch for the world, but in deactivating it, I had only removed vibrant color - all that remained was the green-grey of the winter landscape. I took this as a sign to spend a significant portion of my residency wandering the woods, communing with nature. This activity left an indelible impact on the music I composed at Banff, where for the first time in my adult life I felt truly freed from the shackles of the contemporary digital world.

This suite examines the didactic between the real and the virtual, wherein a series of metered instrumental & percussive improvisations - standing in for the natural world - attempt to assimilate into a coherent whole with analog & digital electronic elements - a reoccurring leitmotif of percussive, gated synthesizer represents both literal and figurative interference; the audible patterns of cell phone data picked up by active speaker circuitry».
Keith Fullerton Whitman is a Composer living in Melbourne, Australia. Over the last 20 years, his work has transitioned from a meta, explicitly anti-functional dance music into a body of work investigating solemn, held-tones into a contemporary form of Classical Electro-Acoustic and Live Electronic Music, all enamored of the past while utilizing contemporary tools.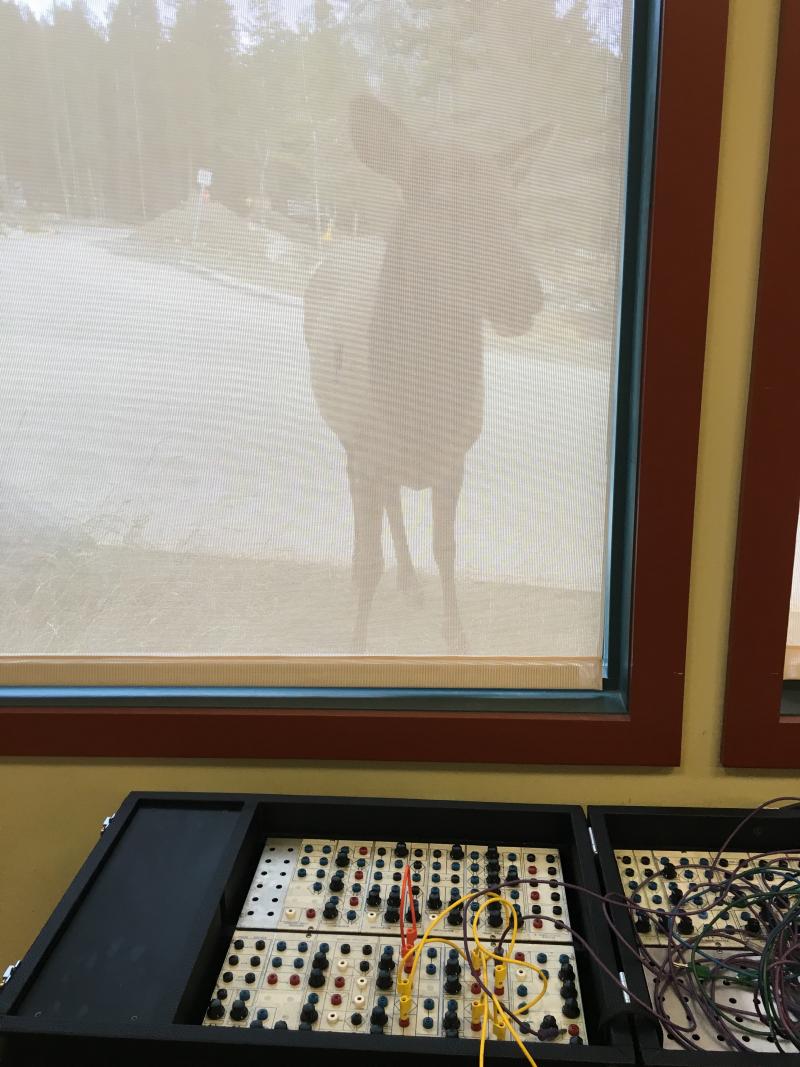 Share
Código copiado al portapapeles.
Date:

22/12/2016

Production:

Keith Fullerton Withman

License:

Creative Commons by-sa 4.0
Additional Material